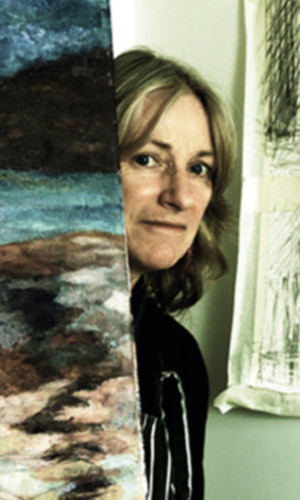 Aileen Grant (Portrait by Herninia Bernal)
Aileen's Bio
I love making pictures and experimenting with different media.
I enjoy hillwalking and spend a lot of time out-of-doors, and my favourite subjects are landscapes and seascapes. I am also drawn to individual buildings, walls, piers and townscapes, probably because I have worked as a town planner.
My work is mainly representational with some abstract qualities. I take inspiration from various Western artists including Cezanne, Matisse and Schiele and the Scottish Colourists and the Canadian Group of Seven. Japanese art is another source of inspiration.
Sketching allows me to observe a subject properly. Back in the studio I use different media and play around with compositions and mark-making to see what works as a picture. I work mostly with charcoal, graphite, acrylic, watercolour, gouache, and inks, and occasionally in oils. I also experiment with pigments and egg tempera/glair.
I live in Lochcarron and have a small studio there where I do my painting and printmaking. I still keep up with many friends and contacts in Edinburgh. Member of Edinburgh Printmakers, Visual Arts Scotland and the Society of Scottish Artists. A member of The Bridge Art Collective (local group of artists), and jointly run local events through Lochcarron Arts.
Exhibitions
Selected Exhibitions
RSA Spring Open Exhibition April 2009
Scottish Drawing Competition Biennial Exhibitions 2009 and 2011
RSW Open Exhibition February 2012
Edinburgh Macmillan Annual Art Exhibition 2013-18
Visual Arts Scotland Annual Open in 2016 - both exhibitions 'Converge' and 'Fly'
Mixed Exhibitions
3 Harbours Arts Festival - Open Houses in Cockenzie ,East Lothian, 2009 - 2013
'Viva Venezia' Birch Tree Gallery, Edinburgh, October 2017
'3 x 5' Birch Tree Gallery, Edinburgh, October 2018
Printmakers Exhibition at the Flat Cat Gallery, Lauder, Mar/April 2019
No Woman Is An Island at the Birch Tree Gallery, Edinburgh 2020
Solo/Joint Exhibitions
Café Montagu, Inverleith Row, Edinburgh, July 2010
Penicuik Arts Centre, September 2010
'No Woman Is An Island' - Annual exhibition of work by Aileen Grant and Rona MacLean in 2013, 2014, 2015, 2016 and 2017.
Featured Artist at the Stick Factory, Edinburgh in Winter 2015/16
Various exhibitions of The Bridge Art Collective, including The Lemond Gallery, Bearsden, Glasgow, March 2020.
Galleries
Ran Lochcarron Gallery with two partners 2016-2018. Regular exhibitor at Gallery 48 (Cromarty), Skyeworks (Portree), Torridon Gallery, Bealach Gallery, Quay Gallery (Aberdour), Buy Design Gallery (Harestanes near Ancrum), and Dockside Gallery (Tweedmouth).
Background
Born and brought up in Fife. Went to Duncan of Jordanstone College of Art, Dundee.
Worked as a town planner.
Leith School of Art courses in 2008/9/10/11, studying under Jacqueline Watt and Matt Storstein.